Many times in the recent past, Manny Pacquiao and Floyd Mayweather have expressed their willingness to face each other in the ring, primarily to please their adoring fans by showing them their individual skills honed from years of practice under the guidance of their respective mentors.
These two great champions would like to know once and for all who really is the better fighter among them. For almost three years, fight fans have been dying to find out who really is the better fighter.
But why is the fight boxing fans around the world want to see not happening after almost three years of negotiations between Pacquiao's promoter Bob Arum and Mayweather's handlers?
So many alibis and reasons have been used to derail what appears to be the biggest event in boxing history for the purpose known only to the promoters. But fight fans say greed for money is the leading cause for several failed negotiations.
Many of the adoring Mayweather fans are of the opinion that Top Rank honcho Bob Arum is the main stumbling block in the making of the Pacquiao vs. Mayweather super fight. They believe Arum is capable of meeting the major demands of Mayweather and his handlers, but he purposely puts roadblocks in the negotiating process for reasons only known to him.
But they say money is the main reason why Arum seems to be stalling the fight. What these fans are saying about Arum's "hard-to-get" stance is Top Rank's hold on Pacquiao in a fight contract that may have been renewed or extended recently.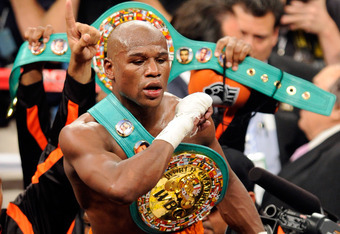 Floyd Mayweather, Jr.
Ethan Miller/Getty Images
So why would Arum agree to a Mayweather fight which would divide his otherwise solo profit when he can gobble it all in a fight that does not involve Mayweather?
Still, fight fans say, Pacquiao has little say on the way Arum negotiates with his would-be opponent. This has has been repeatedly admitted by the Filipino boxing champ by saying it's up to his promoter to choose his opponent.
Fight fans have been urging Pacquiao to man-up and assert his right to choose whoever he wants to face. In the case of Mayweather, the eight-division champion said he will be happy to face Mayweather anytime and anywhere.
On the other hand, adoring Pacquiao fans have blamed Mayweather for failing to agree on several proposals from Pacquiao, which even gave Mayweather a much higher purse share in order that negotiation can bear fruit.
But while Pacquiao tries to be accommodating in off-table negotiations, Mayweather would also try to demand more than what is normal and reasonable.
In fairness to Mayweather, fight fans believe his hard stance is nothing else but a marketing strategy for him to be in front pages of newspapers or a hot topic in the Internet and broadcast media.
It is therefore not true that Mayweather is scared of Pacquiao or afraid to lose his "O," but it would seem Arum is the real stumbling block in the making of the world's most wanted fight.
But it also must be understood that Arum is a businessman, and as such he is expected to maximize his bottom line every time he stages a fight.