Manny Pacquiao has reportedly picked his next foe from the remaining two fighters left in the Arum shortlist which was presented to the fighting Congressman from the Philippines on Saturday.
The shortlist Arum handed to Pacquiao during his week-long visit to the Philippines include Mexican counter-puncher Juan Manuel Marquez, Timothy Bradley, Lamont Peterson and Miguel Cotto. Future Pacquiao foe Floyd Mayweather was not included in the shortlist because of his scheduled jail date.
Mayweather was scheduled to enter a Nevada jail to serve his 90-day sentencehanded down by a Nevada court for assault on his former girlfriend and mother of his two children about two years ago.
In an unexpected favorable ruling, the Nevada court granted Mayweather's motion to move the date of the start of his prison term from Jan. 6 to June 1, citing a commitment earlier entered into by Mayweather for a May 5 fight at the MGM Grand.
Mayweather's lawyers also insisted the fight will bring millions of dollars into the Las Vegas local economy which is suffering from business and economic downturn.
On Saturday or before Arum's return flight to the US from his meeting with Pacquiao in Manila, there were reports that former Pacquiao foe Juan Manuel Marquez was on the verge of signing a fight contact with Amir Khan's tormentor Lamont Peterson.
If Marquez and Peterson are taken out of the shortlist, Pacquiao was left with only two choices—Bradley and Cotto.
According to Pacquiao's lovely wife Jinkee, her husband chose former foe Cotto to be his next opponent.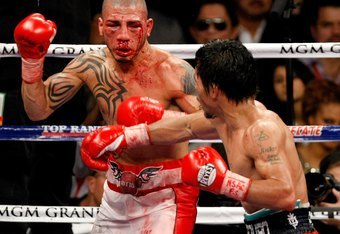 Manny Pacquiao vs. Miguel Cotto
Ethan Miller/Getty Images
While Bradley is unbeaten in his professional career, the Palm Springs slugger is seen as an unpopular foe on account of his low fan base which could hurt the business viability of the fight.
In 2009, Pacquiao and Cotto fought in a bloody showdown which ended in a TKO victory for Pacquiao at the MGM Grand Garden Arena in Las Vegas, Nev.
Since his devastating loss to Pacquiao in 2009, Cotto fought three top-notch opponents which include Yuri Foreman, Ricardo Mayorga and Antonio Margarito with each fight ending in TKO in favor of Cotto.
Fight fans say Cotto deserves a rematch with Pacquiao on account of the Puerto Rican's impressive victories against rated opponents since they fought in November 2009.
Meanwhile, Arum is holding on to Pacquiao's handpicked opponent until his return to his Las Vegas enclave saying he will not reveal Pacquiao's choice yet.
"Now I'm going back and let's see if we can make what Manny wants to happen. We need to be sure everything is secure and that things are done the way they should be done," Arum said.
Arum has yet to disclose the venue and exact date of the fight.