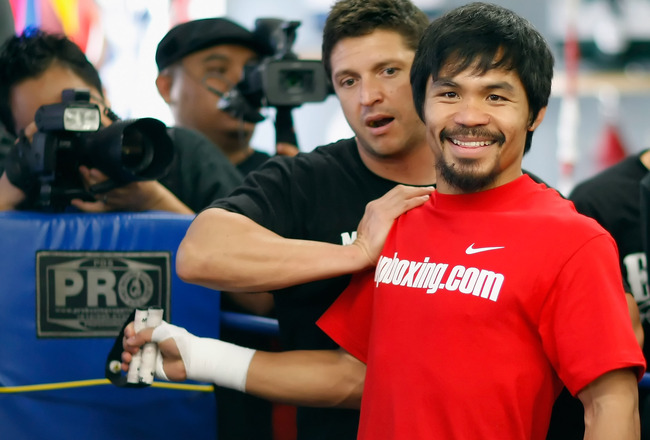 Manny Pacquiao with Strength coach Alex Ariza
Jeff Gross/Getty Images
Almost two years after Floyd Mayweather Sr. and some executives of  Golden Boy Promotions accused Manny Pacquiao of using performance enhancing drugs (PEDs) or steroids, the unsubstantiated charges continue to hound Pacquiao as the case progresses, gracing the pages of print and Internet media almost nonstop since the lawsuit was filed in 2009.
On Christmas day in 2009, Pacquiao sought Bob Arum's help in filing a lawsuit against Mayweather and company for defamation. Arum later engaged the services of Daniel Petrocelli, the famous lawyer of O.J. Simpson, to handle the case.
Before filing the case in court, Pacquiao issued the following statements:
"I have tried to just brush it off as a mere prefight ploy, but I think they have gone overboard.
"I have had people coming over to me now asking if I really take performance-enhancing drugs, and I have cheated my way into becoming the number one boxer in the world."
"I maintain and assure everyone that I have not used any form or kind of steroids and that my way to the top is a result of hard work, hard work, hard work and a lot of blood spilled from my past battles in the ring, not outside of it.
"I have no idea what steroids look like, and my fear in God has kept me safe and victorious through all these years.
In response to Pacquiao's statement on the issue, Floyd Mayweather's team issued the following statements:
"Let it be very clear that nobody from Team Mayweather or Golden Boy Promotions is accusing Pacquiao of anything.
"But the reality seems to be that, for whatever reason, Pacquiao does not want to participate in random blood testing, which has already been deemed a harmless procedure that many current athletes are subjected to, prior to and during competition."
For almost two years, Pacquiao has been continuously attacked by Mayweather and company in print, the Internet and broadcast media with the same accusations, notwithstanding the fact that the case has already been in the court's jurisdiction.
Despite the PEDs and steroid rumblings, Pacquiao has managed to move forward since the failed fight with Floyd Mayweather Jr.in March 2009.
In 2010, Pacquiao fought Ghana's Joshua Clottey and Miguel Cotto of Puerto Rico, winning both fights convincingly.
In 2011, the pound-for-pound king faced the giant Antonio Margarito at the Cowboys Stadium in Texas, winning impressively via a unanimous decision. In less that two weeks, Pacquiao will face Shane Mosley at the MGM Grand, his fourth fight in less than two years.
In contrast, Mayweather has fought only twice after coming out from semi-retirement. His first post-retirement fight was against Mexican Juan Manuel Marquez which he won via a unanimous decision, and the second was his controversial fight with Shane Mosley in which he was almost knocked down in the second round but managed to win via a unanimous decision.
Did the PEDs and steroid rumblings tarnish Pacquiao's boxing career?
With three successive wins in less than two years and a probable victory over Shane Mosley, it is obvious the rumblings hardly tarnished his boxing career.
Still, boxing fans remain divided on the PEDs issue, and as long as the defamation lawsuit filed by Pacquiao in court remains unresolved or no extrajudicial settlement is reached, the drug issue will continue to hound the world's best paid athlete for months or even years.