With the loss of Andre Berto to Victor Ortiz last Saturday at the MGM Grand Theater at Foxwoods in Mashantucket, Connecticut, Filipino boxing superstar Manny Pacquiao is left with practically no worthy opponent after his May 7 fight with Shane Mosley.
That is, of course, assuming Floyd Mayweather Jr opts to hide forever from Pacquiao's radar after the pound-for-pound king gets past Shane Mosley in their upcoming fully sold out fight at the MGM Grand.
Without Mayweather, Pacquiao has no one else left to choose from except Sergio Martinez and Juan Manuel Marquez.
Again, Marquez seems a remote possibility now as he is finding it difficult to move out from the Golden Boy stable, despite the reported lapse of his contract with the promotions company.
Making fight arrangements with Manny Pacquiao while Marquez stays on as a Golden Boy fighter seems next to impossible with the current rift between GBP' Oscar de la Hoya and Top Rank's Bob Arum.
Giving up on Mayweather and Marquez due to their individual limitations, Pacquiao has no one left as possible opponent for his next fight but to consider Sergio Martinez, despite of his huge advantage in overall build.
Martinez has to come down to 147 to get the nod of Pacquiao's trainer Freddie Roach, who said Pacquiao will no longer fight at a weight higher than 147 or thereabout. It is possible, though, that Pacquiao will meet Martinez halfway at 154.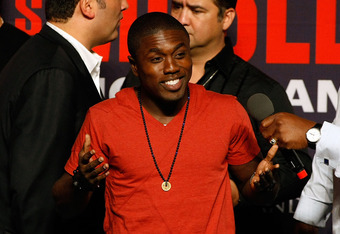 Andre Berto
Ethan Miller/Getty Images
Tim Bradley who has been endorsed by a number of boxing fans seems not ready at this time to face the Filipino boxing icon. Bradley is rumored to be considering a fight with newly crowned WBC welterweight champ Victor Ortiz.
Top Rank owner Bob Arum has recently floated the name of Kermit Cintron in a frantic search for his top money maker's next opponent. Boxing fans, however, say Cintron is not yet on Pacquiao's level and chances are the fight won't make it to the box office.
Amir Khan, who has just defended his title via sixth round unanimous decision over Paul McCloskey of Ireland, has sworn many times he won't face his friend and confidant Manny Pacquiao for personal reasons.
The newly crowned WBC welterweight champ Victor Ortiz, who had sparred with Manny Pacquiao in the past, has said he has great respect for Manny Pacquiao who gave him some pointers before facing Andre Berto Saturday night; there is, therefore, little chance the fight will take place.
Still, there is Miguel Cotto, who suffered a beat up from Pacquiao in their last encounter and the nearly one-sided match is still fresh in fans memory; there is a possibility they won't buy a rematch.
Assuming Pacquiao gets past Shane Mosley on May 7, the public will most likely apply increased pressure on Floyd Mayweather Jr to finally face Pacquiao in the ring.
By then, the $100 million payout Mayweather demanded earlier could now be attained with the increased demand for the fight everyone in the world wants to see.