Puerto Rican boxing idol Miguel Cotto defended his WBA super welterweight title by stopping the trash-talking Nicaraguan slugger Ricardo Mayorga in the 12th round of their fight Saturday in Las Vegas, Nev.
Cotto allowed Mayorga for most of the rounds to fight on his own terms while keeping cool and focused until the 11th round.
"Cotto was ahead by five points on all three ringside scorecards entering the final round and seemingly headed to a win by decision. But he caught Mayorga in an exchange early in the round and, though Mayorga got up, he told referee Robert Byrd when action resumed that he couldn't go on," sportsillustrated.cnn.com reports.
"Mayorga said it wasn't the effects of the left hook that made him quit, but an injury to his thumb during the exchange."
"I hate the way this fight ended," Mayorga said. "I tried to finish the final round but the pain in my hand was too much."
"The game plan was not to get caught up in any of his antics," Cotto said. "He was very heavy handed, I felt his punches the whole fight."
"I told myself, keep calm and be myself," Cotto said. "He has very strong hands and punches that hurt."
The talkative Mayorga is promoted by Don King while Cotto is under Bob Arum's Top Rank Promotions.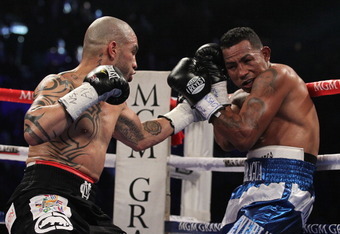 Miguel Cotto vs. Ricardo Mayorga
Al Bello/Getty Images
The just-concluded fight could galvanize the reunification of two of the world's greatest boxing promoters, which could lead to the most-awaited showdown between Manny Pacquiao and Floyd Mayweather, Jr. possibly in November.
Arum and King have jointly promoted major boxing fights in the past decades including, among others, the fight between Muhammad Ali and Joe Frasier in Manila, Roberto Duran and Sugar Ray Leonard, Felix Trinidad and Oscar De La Hoya and Floyd Mayweather versus Zab Judah.
The reunification of the world's top boxing promoters may lead to a possible resumption of negotiations for the twice-failed Pacquiao-Mayweather fight.
Last year, Mayweather, Jr. met on several occasions with King in Florida reportedly to look at the possibility of Don King Promotions acting as his promoter for the planned fight with Filipino boxing star Manny Pacquiao.
Arum believes that he and King could make the mega-bout between Mayweather, Jr. and Pacquiao happen in relatively no time—this after the twice-failed negotiations between Arum and Golden Boy Promotions and Mayweather Promotions could not make the clash come to fruition