Now that  David Haye (26-25-1) and Wladimir Klitschko (52-49-3) have finally agreed to face each other in the ring, the venue and fight schedule will have to be finalized and announced—hopefully within the next few days.
BBC Sports reports: "There had been speculation that the Ukrainian's brother Vitali would step in after Wladimir pulled out of a 30 April bout with Dereck Chisora because of a stomach injury."
But Haye told BBC Radio 5 live: "I know it's Wladimir I am fighting, he is fit to fight and ready to go."
WBA champion Haye will face IBF and WBO holder Klitschko on 25 June or 2 July, the report added.
According to Gareth Davies of telegraph co.uk, at least seven countries are vying to host the heavyweight boxing event, including South Africa, Switzerland, Germany, Russia, the United Arab Emirates, Monaco and the United States.
The United Kingdom has also been ruled out as possible venue for the fight.
Of the seven countries mentioned, it's thought that Germany has the edge—and while a specific site has not yet been identified, a stadium which is under construction has been suggested.
David Haye's trainer and manager Adam Booth said the fight will be the biggest for both Klitschko and Haye.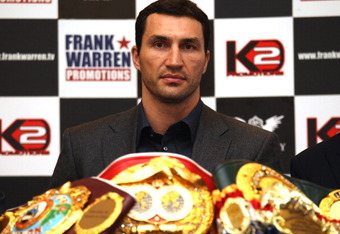 Wladimir Klitschko
Warren Little/Getty Images
"We are expecting to announce the date and venue around the third week in April," said Booth. "This fight is so big I am now 100 percent convinced no one is pulling out. It couldn't get any bigger."
AP/Yahoo News reports: "Haye pulled out of a fight with Klitschko in 2009 with a back injury and talks between the two camps have collapsed several times since."
"I always believed we'd one day fight and I'm glad we've cut through the nonsense and put together the most important fight in the heavyweight division," said the 30-year-old Haye, who plans to retire in October.
"This is the match the boxing world has been calling for since I first decided to step into the heavyweight division, and I feel it is my destiny to fight and beat Wladimir Klitschko. We are the best two heavyweights in the world and it would have been a travesty for us to have never fought."
As the two most popular heavyweights secure their fight plans, the "Tale of the Tape" shows Wladimir Klitschko has a marked advantage in build and in almost all physical aspects, except that Haye is four years younger than Klitschko, who is 34-years old.
Klitschko, who stands at 6'6″, is 3.5 inches taller than Haye. Likewise, Klitschko has a three inch advantage in reach over Haye.
Klitschko and Haye agreed on a 50-50 purse split.Davies says the fight is expected to gross 40 million pounds.