Michael Koncz, the Canadian adviser of Manny Pacquiao, confirmed reports about fight negotiations with the camp of Floyd Mayweather, Jr., according to a report by ABS-CBN News. Koncz said the discussion is going well and could lead to the much awaited Pacquiao-Mayweather bout.
Mayweather and Pacquiao camps have tried to negotiate for a fight at least twice in the past months, but due to disagreements on various issues which include drug testing and purse splits, the talks bogged down.
After the first failed negotiations, both Pacquiao and Mayweather went on to fight different opponents with Mayweather facing Shane Mosley while Pacquiao fought Joshua Clottey. Both fighters won via unanimous decision.
After the second failed talks, Pacquiao engaged Mexican Antonio Margarito at the Cowboys Stadium in Arlington, Texas, winning via unanimous decision while Mayweather remains inactive and has not fought for almost a year.
In both negotiations, Mayweather's camp demanded that Pacquaio goes through a series of random drug tests to be done all the way up to the day of the fight.
ABS-CBN News reports, "The first round of negotiations bogged down when Mayweather's camp demanded that Pacquiao undergo blood testing, which the Filipino turned down."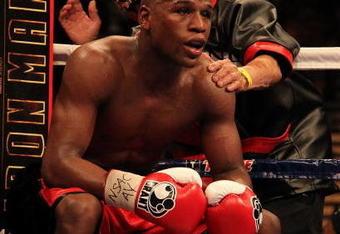 Floyd Mayweather, Jr.
Jed Jacobsohn/Getty Images
During the second round of talks, the Filipino champion agreed to undergo blood testing up to 14 days before the fight.
Mayweather's camp, however, then denied that they were negotiating for the bout.
Recent developments though point to a possible Pacquiao-Mayweather clash within the year. Oscar De La Hoya, whose company, Golden Boy Promotions, helps Mayweather secure a fight, says he believes the fight will take place.
"I believe that fight will take place," De La Hoya told Reuters in a telephone interview. "I believe Floyd Mayweather and Manny Pacquiao understand that it has to take place.
"They are the best fighters out there and I feel they both really want this fight to happen. When the time comes, people will enjoy a tremendous fight because styles make fights."
Jeff Mayweather, Floyd's uncle, said the ex-pound-for-pound king is eying a return bout in July. This could turn out to be a tuneup in preparation for Pacquiao, the ABS-CBN News said.
Meanwhile, Pacquiao has started pre-training workouts by playing basketball in General Santos City on Thursday where he intends to stay until March 12 and then go up to Baguio City in northern Philippines to join coach Freddie Roach for a four-week training session before moving to Los Angeles for the final phase of his training.
Pacquiao is scheduled to face Shane Mosley on May 7 at the MGM Grand in Las Vegas, Nev.